If making moonshine at home sounds like something you want to do you are at the right place. There is so much information out there that it can be overwhelming. The hardest part for most people is trying to figure out where to begin.
We can help!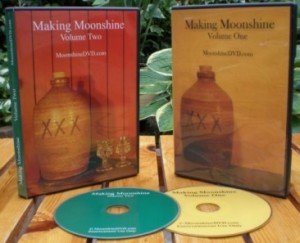 We recommend that you start by ordering your copy of How to make moonshine dvd's. These dvd's are high quality and very informative. They contain two hours of material that will take you from knowing absolutely nothing, in the beginning, to being able to produce moonshine, in the end. We guide you with step-by-step instructions on what you need to do. We not only show you what items you will need in order to make your still we even provide you with a PDF document with a list of materials and where they can be purchased at online! The PDF material list is provided at no additional charge when you purchase your videos.
You can get these videos instantly and watch them on your computer, phone, or IPad for only $19.99 or have the dvd's mailed to you for only $29.99. We pay the shipping charges.
After you watch the videos if you feel like you building your own still isn't for you we can still help you make great tasting moonshine. We offer the highest quality stills that money can buy. All of our stills are constructed from heavy duty 22 gauge copper. We do not use any roofing copper that contains lead in our products. These are not the flimsy thin gauge material stills that some people are offering for sale. Ours are a quality product with a 100% guarantee on workmanship!
---
What do you get when you buy a still from us?
You get moonshine recipes and full setup instructions so you will know exactly how to set up your still!  We are available to help you before, during, and after.
---
Our stills are built to last. They are heavy and heavy duty! If you are serious about making moonshine you need our stills. We use only pure copper. Any old time moonshiner will agree that pure cooper produces the highest quality shine. Pure copper distributes heat evenly.  Our stills are not only great to look at they produce the highest quality and best tasting moonshine possible. The pure copper used in our products neutralizes the sulfides and result in a superior tasting product. This taste can't be duplicated when using a lower grade of material.  Don't make a mistake and buy an inferior product!
We offer stills in many different sizes ranging from 6 to 100 gallons. We also offer thump kegs, worms, and all the accessories you will need to make shine.
If you are just getting your feet wet we highly recommend you purchase our 10 gallon traditional moonshine still. This still is very affordable, and it produces 2 gallons of shine per run. This still will be ready to operate as soon as you unpack the box it was delivered in.
If you are really serious about your craft you can't go wrong with our 50 gallon traditional copper moonshine still. This still is a workhorse and is capable of producing an amazing 10 gallons of shine per run! This still is shipped with everything you need to make great tasting shine time after time.
We are also now offering  home distillery complete moonshine still kits. These stills are huge and our largest one is capable of producing 20+ gallons per run!
Because these stills are individually handcrafted to ensure the highest quality, please allow three to four weeks for delivery.
Use the chart below to help you make a purchasing decision.
| | | | |
| --- | --- | --- | --- |
| | Producing | Price | |
| | | | |
| | | | |
| | | | |
| | | | |
| | | | |
| | | | |
| | | | |
| | | | |
| | | | |
| | | | |
| | | | |