Description
Learn How To Make Moonshine At Home! 
We are going to show you how to make moonshine AND we are going to show you how to build your own simple moonshine still. We not only show you how to build your moonshine still, but we also provide you with a pdf document listing the materials and places that the materials can be purchased online and shipped to your home or office. This is a complete comprehensive guide on how to make moonshine.
If you are like most people you want to make great tasting moonshine in the privacy of your own home, but you are overwhelmed by what you have been reading so far. It can be confusing, but it doesn't have to be! We have put together two one hour videos that will make it so easy for you. We don't hold anything back we show the complete how to make moonshine process from beginning to end. 
We have thousands of satisfied customers!
Making Moonshine at Home shows you what to buy at your grocery store and hardware store for all the ingredients and equipment to make great tasting moonshine liquor. No fabrication skills required! You can put a simple moonshine still together in 15 minutes! No cutting, metal work, or soldering required. Anyone can do it!
Economical! The cost of the materials, ingredients and these videos combined are a fraction of the cost of ready-made moonshine stills!
Imagine yourself relaxing in your living room, with your favorite beverage and snacks, being entertained and taughteverything you need to know.
Forget about sorting through books, articles, and websites trying to make sense of it all…
It is all in these videos in clear, easy to understand step-by-step instructions
Here's What Others Have Said About Making Moonshine on DVD:
"Al, thanks so much for producing this video. The instructions were really clear and it was easy to do. I made some real smooth shine on my first try and got another batch on the go…"
— Eric M. (Kentucky)
"I really enjoyed the DVD and can't wait to start…"
— Mark S. (South Carolina)
"Thanks for the DVD. I got it really quick and have watched it a few times already. I like the way you talk…"
— Thomas B. (Florida)
"Really enjoyed the DVD. Best instructional video i've ever seen. Whiskey is great. Made several times. Really fun hobby. Thanks for the info. PS ordered Vol. 2. Keep It going! I can't figure this out on my own. Thanks!"
— Chris M. (Kentucky)
Over an hour each of great content, these videos take you from knowing at all about making alcohol, to being able to design your own recipes and moonshine stills. 
Don't know a thing about making alcohol?
It's not really hard at all.
You ferment a mash that gives you an alcohol concentration of around 12%, and then you distill it to get the proof up.It's been done for centuries!
There are literally thousands of moonshine recipes and methods, and I bet every single one of them is out there on the internet and in libraries.
It's mind boggling!
 If you are a novice then where do you begin?
Well you start by knowing and practicing the basics. You learn about safety and potential dangers!
Making Moonshine on DVD is like having your own mentor and teacher right in your living room to explain and demonstrate a simple, basic method of making alcohol!
It starts with a solid hour of valuable information that includes basic theory, a simple easy to make recipe, a really easy to build moonshine still setup, and exactly how to put everything together for great tasting, smooth moonshine.
The beginners moonshine still is an efficient pot design with a water cooled condenser, and it can be built in about 15 minutes with items available at any hardware store!
There isn't anything complicated about it at all. Anyone can do it safely and with great results.. Once you know how!
f you're a novice then spending a lot of money to buy ready made moonshine stills, or building a complicated design will only be a source of frustration for you…
Trust me I know!
If you really don't know what you are doing and why you are doing it you will not achieve very good results and could be subjecting yourself to some danger.
I'm not saying that investing in great equipment is something you shouldn't do, because it is!
When You Are Ready!
But first you must learn how to get good results and to do it safely. Plus you don't want to invest a lot of money at the beginning.
That's why I produced these videos.
For the cost of these videos, the equipment you will need, and the ingredients for your first batch, you will have spent afraction of the cost of a ready-made still!
What you will have for your investment is knowledge and understanding and a few liters of great-tasting moonshine!
And you can make more for about $12 a gallon from then on!
Volume One starts you off with an understanding of fermentation and distillation, and gets you started in the hobby by showing you how to make a simple sugar-based wash to distill.
Then it shows how to build a simple moonshine still in fifteen minutes for twenty five dollars without any fabrication skills whatsoever! You are taught exactly how to safely run the equipment for a great tasting product!
The great thing about Volume One is that it is not technical at all! You are given exactly what you need to know, what to buy, and all the how's required for success!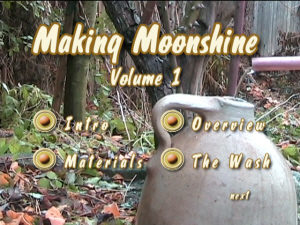 | | |
| --- | --- |
| Introduction | History of Distilling in clear, easy to understand terms. |
| Overview | Science of Alcohol Production so YOU can understand it. |
| Materials | What you need to buy at the hardware store and supermarket to get started. |
| The Wash | Exact Instructions on how to make and ferment your first safe, and delicious wash. |
| The Still | How to build your still in about fifteen minutes! |
| The Run | Once your wash has fermented, you learn exactly how to run it through the still. |
| Summary | Where to go from here in the art of distilling. |
| Bonus Material | Building the World's Simplest Still with kitchen stuff! |
Volume Two takes up where Volume One leaves off.
Here you learn exactly how to build a convertible reflux moonshine still, a gin box and a water jacket condenser, and are given the knowledge for advanced techniques required to make vodka, gin, rum, brandy and whiskey.
You'll learn about specific gravity, ph, enzyme starch conversion and more. You will have the knowledge you need to experiment with your own recipes knowing they will work. You won't ever need to follow a recipe without understanding it completely.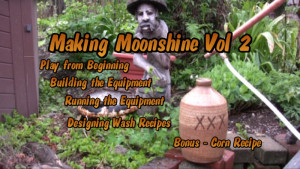 These DVD videos are professionally printed and glass-mastered – not cheaply burned on a PC. Yet, they aren't slick. You're getting a down to earth real person showing you real valuable information.
Featured Testimonials
Amazing product guys!! Thank you SO MUCH for sharing your secrets with us "do-it-yourselfers!"

– Denny L. (Atlanta, GA)

Al, I was pretty skeptical, but the process you teach is very easy to follow and the moonshine is incredible. Thanks so much for the DVDs!

– Erik H. (St Louis, MO)

I don't even generally like moonshine, but this stuff tastes amazing.. Now I just wish I could get my husband to come out of his "distillery room"!!! 🙂

– Susan T. (Little Rock, AR)
WARNING: Not for Minors. This video is for entertainment and informational purposes only. The producer of this video and website do not encourage or endorse any illegal activity. Sales and Marketing copy on this website is composed for sales effectiveness alone and not to encourage actions prohibited by law.